A rain garden is any landscaping that filters and absorbs stormwater (rainwater) runoff from a nearby impervious surface such as a roof, driveway, parking lot or street. Many rain gardens are installed around a raised overflow drain or other overflow route just in case there is more runoff than the garden can easily absorb.
The garden can be a simple lawn or cluster of rocks receiving runoff from a roof downspout that has been disconnected from underground drains. It can be an ecosystem full of varied plants, insects and other animals. It can be a vast pond, hosting ducks and serving as the focal point of a neighbourhood. Our imaginations are the only limit.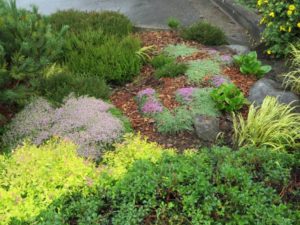 Click on the sidebar links for more information about rain gardens, including descriptions of several rain garden projects coordinated by Cougar Creek Streamkeepers.